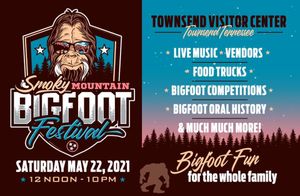 East Tennessee Championship Wrestling is back with a vengeance! During the Covid - 19 pandemic, ETCW made the decision to cancel their remaining shows for 2020 and until the restrictions were lifted in public places.  We are pleased and excited to announce that ETCW's first appearance of 2021 will be May 22, 2021, at the First Annual  Smoky Mountain Bigfoot Festival at the Townsend Visitors Center in Townsend, Tennessee! The ETCW Superstars will be on hand for photos and autographs as well as a mini wrestling show featuring 2 matches and a Special 10-Man Over The Top Battle Royal! Bell time is at 1 pm!
For all of you ETCW fans, we invite you to come out to the festival and show your support!  We are going to have a great time with everyone and enjoy all of the festivities of the Smoky Mountain Bigfoot Festival! The festival starts from 12 pm until 10 pm!  Make your plans NOW to come to this family-friendly event!
Stay tuned for more updates on future ETCW events!
Until next time...
Jerry Martin 
ETCW Social Media/Podcast