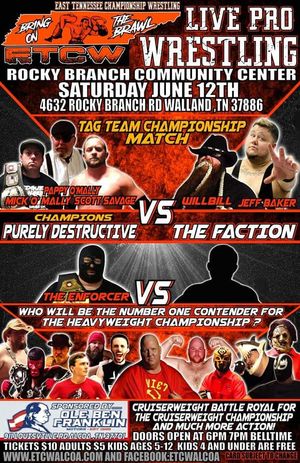 East Tennessee Championship Wrestling is making its way to the Rocky Branch Community Center in Walland Tennessee!  Mark your calendar for Saturday, June 12, 2021, as the ETCW Superstars Bring On The Brawl! 

This will be an action-packed night as the ETCW Tag Team Champions, Scott Savage and Mick O'Malley of "Purely Destructive" defend their titles against Wild Bill and Jeff Baker of "The Faction". 

Also on the card will be the long-awaited rematch between The Rogue Nations, Russian Monster, and Hillbilly Bigg Joe! The last time these two faced off, both men dawned the crimson mask.  It was a sight to behold! 

Jace Evans will make his single competition debut against Bobo.  Remember that Jace sent out some footage that he was putting everybody on notice and that he has all intentions of getting a title!
The ETCW Heavyweight Champion, The Enforcer will make his appearance and we have it on good authority that he will be coming in with a vengeance and said he will destroy anything and everyone who gets in his way!
  
There will be a Battle Royal for the vacated Cruiserweight Championship!  Who will come out victorious and become the new ETCW Cruiserweight Champion?
As East Tennessee Championship Wrestling cranks back up to full throttle this year, you'll be seeing some new faces making their debuts and you might see a familiar face or two along the way. You can check out the Roster here!
We have a lot of exciting things happening with ETCW this year and the time has finally arrived to Bring On The Brawl!
Until Next Time...
Jerry Martin  
ETCW Social Media/Podcast