ETCW OFFICIAL PRESS RELEASE! October 5th, 2019 Bring On The Brawl.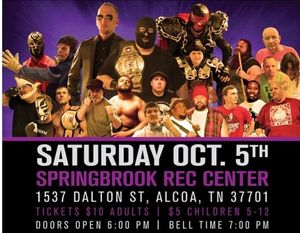 October 5th marked a very exciting time for the ETCW fans.  The ETCW Bring On The Brawl event was totally on fire as we saw some surprises, debuts, and interesting outcomes throughout the night.  So let's get started with the ETCW Recap Rundown!
Our first match was a dark match featuring a Fatal 4 Way featuring:  Capt. War Dogg vs the Grave Digger vs the Dark Circus.  In this particular match, we started off with Capt. War Dogg and the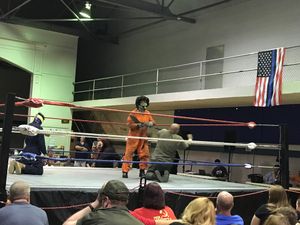 Grave Digger.  The Grave Digger is a mysterious creature and one that nobody wants to be around.  Very creepy if you ask me.  During the match, it was like he was immune to pain and anything else the War Dogg threw at him.  Showcasing incredible power as he gave a beatdown to the seasoned veteran!  Then in comes Bobo of the Dark Circus.  Instead of facing off against the Grave Digger, they joined forces and continued to pummel War Dogg.  Although he gave a few good shots along the way and at one moment we thought he was able to hold his own until the next member of the Dark Circus came in.  It was a 3 on 1 match at that point which the Wiley veteran just couldn't handle.  There was nothing he could do to escape the beatdown they all were putting on him.  The Grave Diggers shovel got involved as he hit Capt War Dogg with it several times which caused the match to end in a disqualification. 
*On a side note, that sinister ghostly creature came out again that we are now calling The Reaper.  Slowly walking around the ring with his hourglass in hand chanting "Time is running out!" as he gave a blood-curdling laugh and walked away.  Very creepy indeed!

WINNER: Capt War Dogg by DQ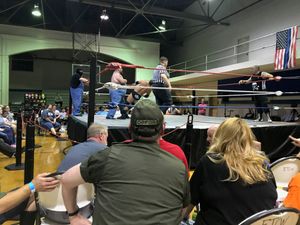 Next on the card was Hillbilly Bigg Joe and his cousin Bubba vs ETCW Tag Team Champions Purely Destructive with Pappy O'Malley.  This match was another great one!  Bubba took the place of Lumberjack Josh since he still wasn't cleared to compete as he was injured during the August Bring On The Brawl.  If you missed that one, you can always purchase a copy through the ETCW Online Store.  Bubba came in with a stuffed doll of some sort, talking to it and he was also wearing a mask.  The Champs were on fire and totally destructive as their name implies.  The more I watch this tag team and see how well they gel and work together, the more impressed I am with them. Mick O'Malley is just a powerhouse and Scott Savage was intense, calculating and brutal as he started taking apart Bubba and Bigg Joe.  Focusing on the legs of the Hillbilly and knocking Bubba all around the ring, it looked like Savage was unstoppable!  Bubba got in a few good shots and an eye poke to Savage which gave the big Hillbilly the upper hand.  And with that, I mean literally!  It appeared that Hillbilly Bigg Joe was out for revenge as he used a chain to land a devasting blow to Scott Savage, leaving him dazed and laid out!  Just like the Rogue Nation used chains during their past matches with the former champs, the Hillbilly got his sweet revenge as he not only hit Savage with one blow but two blows with the chain that knocked Savage out cold and giving Bigg Joe the pinfall.  Of course, Pappy was heated as was Mick and called in the Rogue Nation to beatdown the former Champ and his partner Bubba.  The Enforcer quickly jumped on Bubba, unmasking him to find out it was Lumberjack Josh!  The Russian Monster, Savage and O'Malley went to work on Hillbilly Bigg Joe beating him down until the entire locker room came out and rushed the ring!  Finally standing up to the Rogue Nation!  They ran them quickly out of the ring and coming to the aide of Joe and Josh.  It was something to behold and the fans went wild!  
WINNER: Hillbilly Bigg Joe and Lumberjack Josh 
Here come the High Flyers!  Our third match of the evening was Eli Green vs Ravishing Rex Riley with a special guest referee, Smiley.  All three of these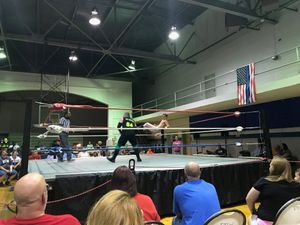 young men have wrestled with each other and beat one another.  They have taken chair shots from the Ravishing one and given chair shots as well.  Every event these three guys bring their A-game and take it up a level.  Now a funny thing happened as Rex was making his entrance.  The wrong music was played and in typical Rex Riley fashion, he blew up and made our great ring announcer Taylor Walker cue up his new music.  Rex then walked back to the locker room and then walked back into his new music.  You just never know what Ravishing Rex Riley will do next.  Kinda keeps you on your toes!  Now Eli and Rex were getting ready to lock up until Riley got the attention of Smiley towards the crowd.  It looked like he was pointing at something in the crowd and as Eli started to come up behind Riley, Rex delivered a low blow courtesy of Riley's leg which stopped and dropped Green in his tracks.  This gave the Ravishing one the upper hand at the start.  Still, it was a heated battle with stinging chops, suplexes and dropkicks!  Several times Riley had Eli pinned but he would kick out showing his power and fortitude.  In a style that can only be said as Ravishing, Riley did his patented high flying dive over the top rope onto Eli which resulted in an epic crash!  Rex got up with his head busted open as we saw the crimson red mask painted on his face form the flow.  Still, that didn't deter him as it looked like it only fueled him even further!  Rex landed a deadly dropkick and went for the pin. Smiley delivered a slow count and Rex shoved Smiley.  They got into a heated talk over it and Eli came back as he was setting Riley up for his finisher but Smiley got in the way.  Eli didn't see who he had grabbed and backdropped until it was too late!  Smiley got up from it and retaliated with a precision superkick that knocked Green out cold!  Riley took advantage of this and covered Eli for the pin.  There is a feud brewing between these three superstars and only time will tell when this explosion is going to happen.  I'm going to be there, how about you?
WINNER:  Ravishing Rex Riley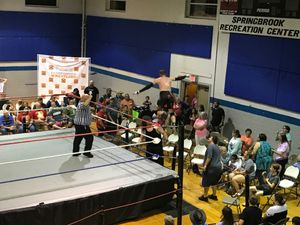 Up next, Mayhem vs The "Alpha Male"Hunter Wolfe  This match was awesome!  There was a stipulation that led up to this match.  Before the show started the ETCW Cruiserweight Champion, Matt Raby came out with Wolfe and was talking to the fans until Mayhem showed up and challenged the Pitbull for his title.  Raby told Mayhem that he didn't deserve a shot because he hasn't earned it.  The only way to get a shot was to beat the 6'9" giant, the Alpha Male, Hunter Wolfe.  Of course, Mayhem was livid! But he accepted the challenge.  During the match, Mayhem had to rely on his cunning and quickness to get the upper hand on the powerful Alpha Male.  In the past, Hunter dominated Mayhem with his brute strength so Mayhem had to dig deep into his diabolical bag of tricks and outsmart Wolfe if he was to get a shot at the Cruiserweight Champion.  Mayhem showed quickness and focus like never before against the powerhouse Wolfe.  Dodging and striking Hunter at a distance until Hunter finally got his hands on him.  Hunter tossed Mayhem around the ring like a ragdoll and it spilled outside of the ring.  Hunter was dominating here as well until Mayhem used Wolfes' strength against himself by ducking from a powerful punch that landed against the ring post.  Mayhem seeing this struck hard and fast!  Using this to his advantage and throwing Hunter into the ring post, again and again, took a lot out of the young giant.  Mayhem dove off the top rope outside onto Hunter which kept the Alpha Male dazed.  The ref was counting them both out as they barely made it back inside the ring.  While the ref was checking on Wolfe, Mayhem took a foreign object out of his boot and was going to use it on Hunter.  The ref saw it and took it away from Mayhem.  As the ref was giving it to a ring attendant, Mayhem quickly struck a low blow on Wolfe which was enough for Mayhem to roll up Hunter for the pin.  Looks like Mayhem is going to get his title shot after all!  
WINNER:  Mayhem
Next up the Cruiserweight Champion, the "Rabid Pitbull" Matt Raby vs Frankie Swamptower.  Both of these guys are well respected in our company and in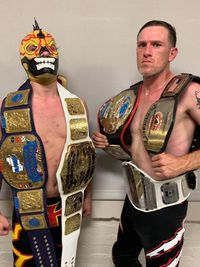 other federations around the globe.  This was the ETCW debut for Frankie Swamptower and he brought in his Mid Atlantic Championship title to be put up against Matt Raby's ETCW Cruiserweight Championship title.  The winner of the match walks away with both championships!  
These guys respect each other's abilities so much and you could tell that they have studied each others' matches prior to getting ready for this special match.  It was like watching a mirrored image of themselves!  So fluent in their moves and styles and they both brought it to the next level.  So much was at stake in this match.  The Champ defending his title and honor of the ETCW.  Swamptower defending his title and making his ETCW debut.  What a match it was!  Hold for hold, move after move, chop after chop, it was incredible to see!  It was the high octane, fast-paced match you have wanted to see!  They both delivered!  Unfortunately, there was only one winner and that was the fans who got to witness this match live and in person.  It went to a 20 min time limit draw.  No titles changed hands that night but we can only hope we get to see these two superstars go at it again!  
WINNER: Time Limit Draw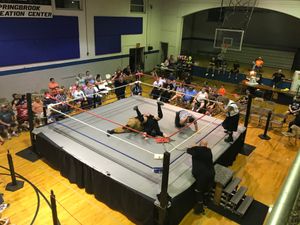 This brings us to the Main Event!  The ETCW Heavyweight Champion, the Enforcer with the undefeated North Ireland Champion, the Russian Monster with Pappy O'Malley vs Daniel Mulligan and Billy "Baby Shark" Marshall.  Could it get any better?  It's like having four tanks that are so powerful destroying anything that gets in their path!  The Enforcer was a force to be reconned with as he looked like he had a mission and that was to take out once and for all, Marshall and Mulligan.  Throughout the match, the Rogue Nation team looked great as they dominated their opponents.  The big Russian challenged Marshall "Sumo Style" and Marshall obliged.  They both got in their stances and then charged each other colliding with such force that it shook the ring!  Both men went down.  Marshall crawled out of the ring as the powerful Russian Monster got back up and shook off that devastating blow. His Russian Comrades were on hand that night as they cheered him on!  Daniel was tagged in and begin cleaning house.  After a hip toss and a big splash to the Russian Monster, you could tell it was taking its toll until the Enforcer got involved.  They double-teamed Mulligan and set him up for the Enforcers big corner splash.  Daniel had other plans as he broke away from the Russians clutches just in time and the Enforcer delivered the splash to his partner instead.  This rocked the powerful Monster and Daniel took advantage of it and he delivered several big blows which finally knocked down the Russian Monster!  Setting him up for Daniels signature top rope splash!  Daniel climbed to the top and took to the air but the big Russian rolled out of the way and Mulligan crashed hard!  The tag was made to the Enforcer, which by now was fuming and ready to end this once and for all!  Daniel was still dazed and confused from the missed splash.  The Enforcer delivered a big punch to the Baby Shark which knocked him off the ring apron.  Daniel was out and could have been easily pinned but the Enforcer had other plans!  He got Daniels bull rope and was getting ready to deliver a forceful strike to Mulligan but Marshall grabbed the rope and stopped him.  The Enforcer turned around to Billy and a tug of war started with the rope until Daniel rolled up the Enforcer as Billy let go of the rope and Mulligan got the pin over the ETCW Heavyweight Champion!  Pappy O'Malley came unglued and was yelling at the Enforcer for not pinning Daniel Mulligan when he had the chance.  Pappy kept screaming at the Champ until the Enforcer had enough.  He shoved Pappy and then the Russian Monster stepped in between them and shoved the Enforcer, protecting O'Malley.  The Enforcer got out of the ring and told everyone that he was still the ETCW Heavyweight Champion and walked out!  Could there be trouble brewing inside the Rogue Nation?
I recently saw a post on social media from Pappy O'Malley.  I'll share it here.  "WHAT HAPPENED? Someone in the Rogue Nation might have a chance to get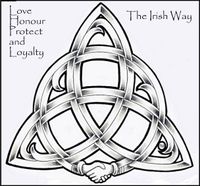 their heart right. You betrayed me when I called everyone for Total Destruction and you failed to destroy your opponent. Maybe you were hit in the head too hard by Minnow Marshall... I didn't see it as I had me eye on the other action, but I did see with me eye that you failed! The verdict is out as I am traveling..... Til then."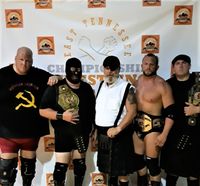 Folks, only time will tell the outcome of what is happening within the ROGUE NATION!  Could there finally be a chink in its armor?  Stay tuned and come out for the next ETCW Bring On The Brawl event!
Check out our Photo Gallery for many other Bring On The Brawl event photos that we take for each event!
There are so many events happening very soon that you do not want to miss out on!  Check out our schedule here and mark them in your calendar!  You'll be glad you did!
That wraps up the recap but make sure you tune in to listen to our ETCW Podcast as we will be recapping the October Event and making some very important announcements as well on what's happening within the ETCW!  You don't want to miss it!  Go here to check it out!
Until Next Time... 
Jerry Martin 
ETCW Web/Social Media/Podcast